I have just finished up a project that turned out way more sophisticated than I expected... Have you ever had that happen? I was going for a cutesy vibe, and when I was done it was more of a Chic vibe. All I know is I LOVE it!
I love fall and I love pumpkins in the fall! On Pinterest I have seen this little dryer vent coil thingie pumpkin that are just sooo cute!
I liked the way the lines made it seem pumpkiny with a twist on the traditional, but I like to be unique and I had not seen a wreath done like this. Since I am in need of one for my kitchen door I thought this could be just the thing to spruce it up. So the first thing I did was to head down to my local hardware store to pick up some of this dryer vent and some orange spray paint. I was out a total of 8 bucks. Since I only used half of my dryer vent, and half of the pray paint I am calling this a $4 craft.
Anywho my first snag was in the dryer vent section where this type of vent was NOWHERE! only a hard metallic type of vent could be found. I mean like weapons grade "I'm gonna cut ya" metal/aluminum can type ends. So that's what I brought home along with the afore mentioned orange spray paint.
Anyway, after being sliced a few times while extending it out and finally getting the ends duct taped together, I commenced to priming it and then spray painting it with my lovely pumpkin orange paint.
With that task completed I went scavenger hunting in my yard, and came up with this awesome specimen for a pumpkin stem!
I attached it to the wreath with hot glue (I tried E6000 which is usually the best long lasting permanent glue but it just wouldn't adhere well to this rough stick). Then it looked a little bare, so I dug this moss out of my craft stash.
I squirted a little more hot glue all over the top of the wreath and front of the stem, pressed the moss onto it, and voila!
I adore how it turned out. I was a little worried that it didn't look very pumpkinish, or as cute as I thought. My worried were relieved when a couple of friends stopped by, and started ooing and ahhhing over it. They honestly didn't believe me when I told them I made it. They thought I had purchased it somewhere like Kirklands (that's how upscale it looks not cutesy like I was expecting!). I think its the hard metal venting I used that gives it such a professional air, and not just a crafty look. Anyway, I then attached a scrap piece of brown knit, stretchy fabric to the back with hot glue. I used that to tie it the wreath hook that hangs over my door, since the hook doesn't fit around the hard wreath. Here is the final picture of it hanging on my kitchen door greeting all who come to visit with a fall cheerfulness.
What do you think? I would love to hear how you might have made it different. Leave me a comment you know I CRAVE them!!! lol
Hope you had a great day and God bless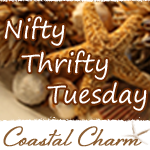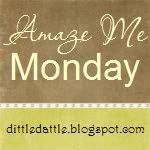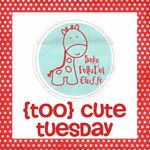 Pumpkin Link Up